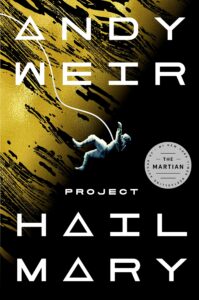 This summer, I've been on reading spree… managing a book a week. I have to say, PHM (Project Hail Mary) has been my favorite so far! I thought I would write up a quick – SPOILER FREE – review for anyone else interested.

If you read Weir's last books, The Martian and the follow up Artemis, you know what the author is capable of. With the Martian, Weir painted an accurate portrayal of a mission gone haywire. Artemis was more exposition and procedural with a futuristic heist on the Moon. Again, Weir shines when he's creating believable not so distant sci-fi locales. In PHM Weir once again takes us to space but this time with a bit of a mystery at the forefront. PHM pulls from both The Martian and Artemis by creating believable space scenarios although PHM is certainly the most sci-fi of the three. I personally LOVED the book and its conclusion and you will too if you like your sci-fi with a bit of wit and hope.

Hope is how Weir keeps me coming back. It's needed for me ( especially these days) in the face of a stark, unforgiving, unfeeling set of circumstances. In this case- the forces of nature and unseen space itself, albeit with a bit of fiction thrown in. Fans of scientific mystery and authors who do their homework need apply, it is a true to it's predecessor's sci-fi roots with just enough surprises thrown in to keep you guessing.
I will say there was one turn that left me pondering Weir's direction, but after a long think, I ultimately came around to the turn and saw the logic of the choice. Certainly not a critical blow to the overall story, but one that does leave the reader thinking, as all good books should!
Feel free to drop me a DM if you'd like to discuss, but please no spoilers in the comments!

On a scale of 1-10 I'd give it a 9.5/10 as one of the best I've read this year.